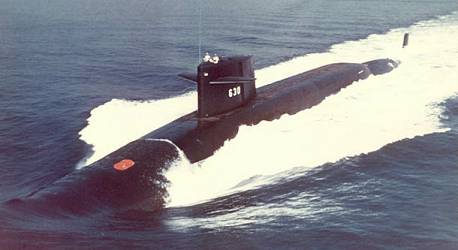 The finest of the Forty - One for Freedom!

Our Chaplin Jim Magin has been experiencing some rough times. He recently completed multiple courses in chemotherapy and radiation treatment. Additionally he and Marnie have just had a personal tragedy with the recent death of Marnie's brother. Jim is at home recovering and indicated to me that he would like to hear from any Calhoun shipmates or friends. His phone number is 970.686.8889.
George (AKA Wally) Walrath

Shipmate Macon "Bucky" Clark is organizing a mini-reunion aboard a cruise ship. It's guaranteed to be a great time for everyone. Here are more details from Bucky:
Ok, folks. I have done a ton of research with a travel planner and here is what I've come up with that I think is the best deal and, hopefully, a trip that all will enjoy. The cruise that appears to suit our needs the most is out of Charleston (where we all like to return when possible.) The dates are November 15 through the 20th, 2017. The cruise is five (5) days with stops in Nassau and Freeport (8 am to 5pm) and time at sea. Cost, at least initially appears to be aro
und $330 per person plus another $180 or so for Port Charges and taxes. Our trip planner informs me that a $50 deposit would need to be paid by January 30, 2017, and then a couple more payments staggered until paid in full. It appears that the more people we have going, the less the cost will be per person, so come on. As the information gets firmed up I will post it here. Now....I NEED EMAIL ADDRESSES FROM ANYONE THAT IS INTERESTED AND I NEED THEM YESTERDAY! Sorry for yelling but, if I don't, people will say they didn't know. Looking forward to hearing from all that want to join us. Please tell all the Shipmates that you are in touch with to either look here or email me at:
Click to see Facebook cruise page

Senator Tim Scott of South Carolina sent a gracious letter to our Treasurer Dean Hunt.


Two Calhoun sailors reunite after 37 years.
Click here for details and photos.

Click Link Below To Visit a JCC Facebook Page

Please visit our NEW Veterans page
Click here, or Veteran Links in NAV bar


New Officers:
George Wright - President
George Shaw - Vice President
Dean Hunt - Treasurer
Jon Fader - Secretary
Jeff Kollhoff - Storekeeper
Mark Lanier - Webmaster
Wally Walrath - Chairman of the Board
Click For Photo Of New Officers


Attention all Calhoun Veterans! - Do we have your current email address so we can keep you posted on JCCVA events/reunions? If not, you're missing important news/updates regarding the Association and upcoming reunion. All hands are encouraged to scroll down the page and use the convenient email address update feature. Also, if your'e not on our Sailing List, please visit the Sailing List page and muster in. Of course, we'd love to have you join us if you haven't done so. Joining the JCCVA will ensure you have important access to our Full & Complete Sailing List.
Email Address Update
If personal information (NOT email address, which you update above) has changed, please click here to visit our Sailing List Update page and enter those changes in the form provided there. Thanks!